As well as professional diagnosis and treatment of injuries, we will be able to assess your strength and flexibility and give advice about specific exercises that will assist recovery.
Martin Davies is a member of O.S.C.A. The National Osteopathic Sports Care Association.
Local premiership football teams, several professional rugby league clubs, professional golfers and cyclists have regularly consulted him.
Golf Health Clinic
Since 1985 the registered Osteopaths at Martin K Davies & Associates have been using recognised techniques to help relieve pain and stiffness and return both professional and amateur golfers to full fitness.

Martin Davies has attended the Golf Health Foundation's Clinicians course at the PGA headquarters at the Belfry, and is the first practitioner in Cheshire on the National Register of Golf Health Clinicians.
Injury Prevention
Sports activities are a regular way of life for many of us now, and involve people from across all age groups from those who have an avid interest to those who just wish to keep fit; from the elite professional to the casual participant.
Many of the injuries are the result of overuse i.e. playing too hard and too often e.g. tennis elbow, golfer's elbow, and biceps tendonitis, or from not warming up properly beforehand or not cooling down after exercise.
Sometimes incorrect equipment can lead to injury – ill-fitting footwear can cause hip, knee and foot injury (e.g. Achilles injuries).
Reduced joint flexibility will affect the degree of performance and may result in injury if the player is unaware that they cannot perform to the same level as they used to, for example golfers who cannot turn at the waist as well as they used to, and the enthusiastic older footballer whose knees do not bend as well as they once did.
Young people especially are vulnerable in sport as their growing bodies are often expected to perform to high standards and are putting exceptional physical demands on themselves.
The good news is that although sports injuries are common, those who are fit tend to recover more quickly and easily from their injuries.
Osteopathy can help
An osteopath can help improve performance as well as treat the injuries being suffered.
By using their knowledge of diagnosis and highly developed palpatory skills they can help to restore structural balance, improve joint mobility and reduce adhesions and soft–tissue restrictions so that ease of movement is restored and performance enhanced.
For those of you wishing to keep fit, the osteopath can help you keep supple and improve muscle tone so reducing the risk of injury to soft-tissues unaccustomed to the extra work they are being asked to do.
Remember
Begin slowly and build up, especially
after an injury
Warm up first, and then cool down with
stretches afterwards
Drink plenty of water when exercising
Exercise regularly, and try to alternate the types of exercise that you are doing every day.
Following a joint injury apply ice to the area for 10 minutes, every hour, if practical. Apply a bandage to compress the tissues. Elevate and rest if possible.
Running Injuries
There often frequent aches and pains that are associated with running, whether that is on track, road, treadmill or on softer ground. In addition there are injuries which result from running. The more common of these are listed below:
1: Pes Planus: Also known as flat feet, this condition can be congenital or can develop over a period of time. The collapse of the longitudinal (medial) arch of the foot is the reason pes planus occurs. Running increases the force of weight through the foot, which can develop this condition. In runners pes planus leads to overuse injuries such as Achilles tendonitis or plantar fascitis.
2: Achilles tendonitis: An overuse injury involving the Achilles tendon, (the tendon connecting the muscles of your calf in the back of your lower leg to your heel bone). The Achilles tendon becomes inflamed or irritated, often at the point of attachment of the tendon to the heel bone.
3: Plantar fascitis: Again, an overuse injury affecting the sole of the foot. The plantar fascia is a tough, fibrous band of tissue (fascia) connecting your heel bone to the base of your toes which helps to maintain the arch of the foot. When the plantar fascia becomes overstressed as a result of excessive running tension builds up along the fascia, leading to pain and inflammation. This can more commonly be felt on the sole of the foot towards the heel.
4: Shin Splints: Although it is listed here, it is in fact a symptom rather than a diagnosis and refers to tears in the tissues that hold the muscles on to your shin bone (tibia). It is usually seen in athletes who suddenly increase their duration or intensity of training, or first time runners who have been running excessively in the early stages. It is one of the most common running injuries.
If you are serious about running, it is always advisable to seek advice from an osteopath, who will be able to support you to ensure that your body effortless adjusts to your new regime. In addition to this, regular osteopathic treatment can increase a runner's performance, by simple measures such as increasing range of motion and by reducing the risk of a injury.
Top athletes pay tribute to Martin Davies Osteopaths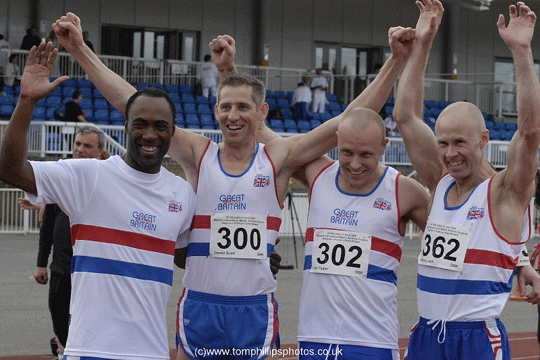 Teacher Tony is a class act
TONY Leigh's the new British Masters Indoor 200m champion.
The Local School teacher, streaked to gold in his 40-44 age category at the Lee Valley Athletics Centre, Enfield, London, over the weekend. The 42-year-old also bagged a brilliant silver medal in the 60m. He said:
"It feels great to be British Champion. "
"To be honest I expected to get what I did get, but thinking it and doing it are two different things. lt felt strange to be favourite in the 200m. "
"It really got to me before the final. I was worrying about all sorts of things like running out of my lane or pulling a muscle."
"My main rival was in the lane outside me. I came out of the last corner ahead and held him off at the line. I was pleased with my time in the 60m, so it was a good weekend for me."
Dad-of-three Tony, won the British outdoor l00m title in 2005 and bagged two silvers last year.
But this is his first Masters British triumph indoors. He won his 6Om heat in 7.36secs, but was pipped by Rohan Samuel (7.l7 secs) in the final by nine hundredths of a second.
In the 200m, he again won his heat, in 24.29 secs, and improved it to take gold with 23.91 secs in the final. While he will be in action at club, county and regional level in the next few months, his main aims for the rest of the season are the British Championships (outdoor) in July and the European Masters Championships later in the year.
Tony would like to thank Martin Davies of Hazel Grove Osteopathic Surgery and the National Union of Teachers, for their help and support.